highlights would be prince covering radiohead, kraftwerk, chill portishead sesh, going on stage during MIA for 1 minute then getting yelled at to get off and ending up backstage (http://www.nme.com/news/coachella/36238), brazillian bbq, the chill VIP area, all the fucking dancing (i probably spent more than 5 hours in the dance tent all together), getting trampled and almost passing out, Hot Chip, Modeselektor, Deadmau5, Boyz Noize, and then finally getting to hear some hip hop- Murs with living legends.
and then spent almost 2 hours looking for my car.
I had a fantastic time but now i can't move and the golf cart keys are nowhere to be found:(:(:(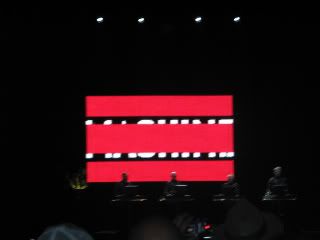 Can't wait for rock the bells.
Now here is the only good song on the new portishead album ( i found it to be dissapointing )
Portishead - Hunter